Fasten your taste buds as we take you on a tour of our favourite dinner destinations in Bright
Bright's spectacular Alpine scenery and opportunities for outdoor fun and adventure outdoor lifestyle are already well known.
What's becoming equally pronounced is the exciting range of restaurants, bars and eateries in Bright, many run by top class chefs and offering an array of delicious fare crafted from quality local produce.
Add in a well-stocked bar, which many of these restaurants also offer, and you've got the perfect night out in Bright!
Take your pick from these top restaurants, bars and eateries in Bright:
15 Camp Street, Bright. Ph. 03 5750 1113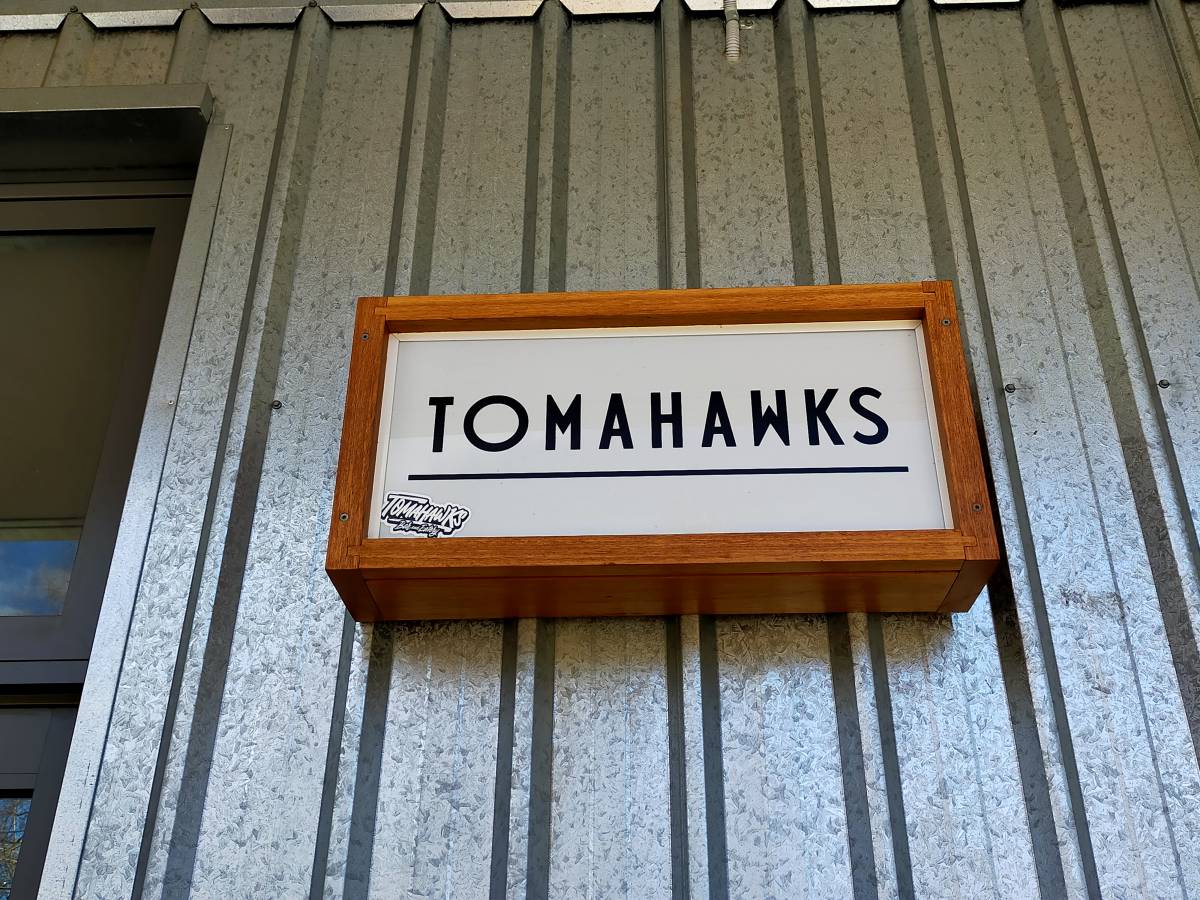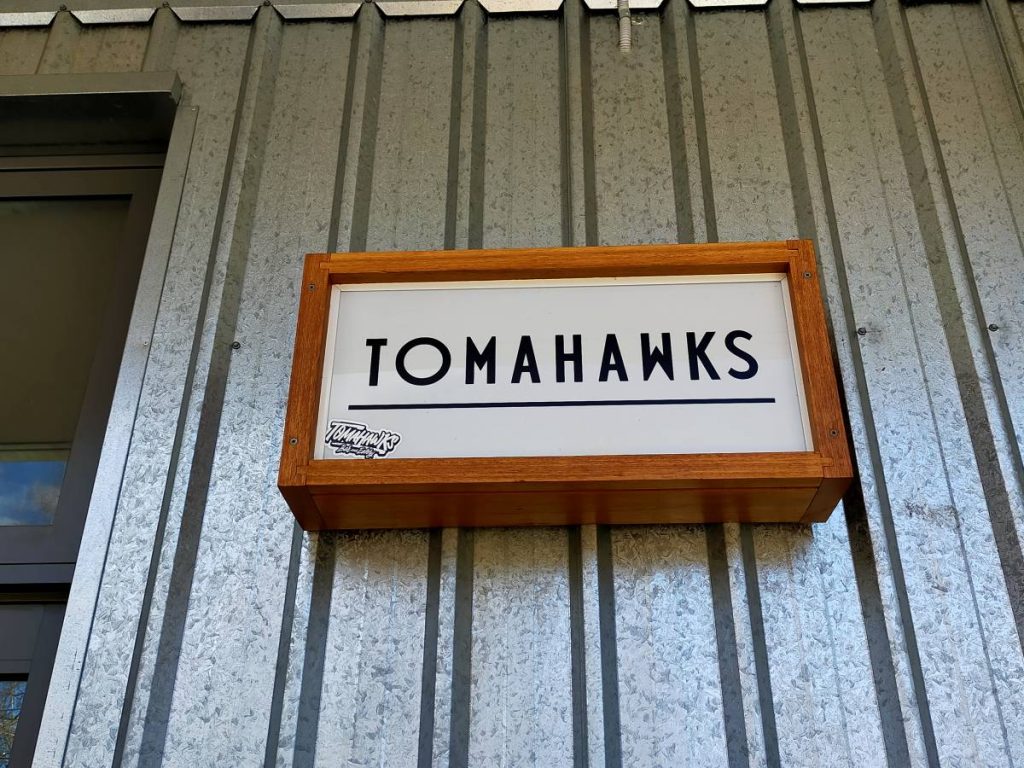 In its relative short life this restaurant/bar has become a firm local favourite.
Offering a relaxed and fun dining experience, Tomahawks' menu focuses on shared plates consisting of mouth-watering dishes like salt and pepper squid, prawn and ginger dumplings, and the finger-licking good Tomahawks fried chicken. Or grab a Wagyu cheeseburger or southern fried chicken with crisp shoestring fries.
Choose to sit at the bar, an intimate indoor table, or grab a seat outdoors. The staff are knowledgeable and attentive, and the food delivered promptly. You'll also be spoiled for choice when selecting a drink from the bar, whether it's a craft beer, wine, spirit or cocktail.
15 Wills Street, Bright. Ph. 0460 782 642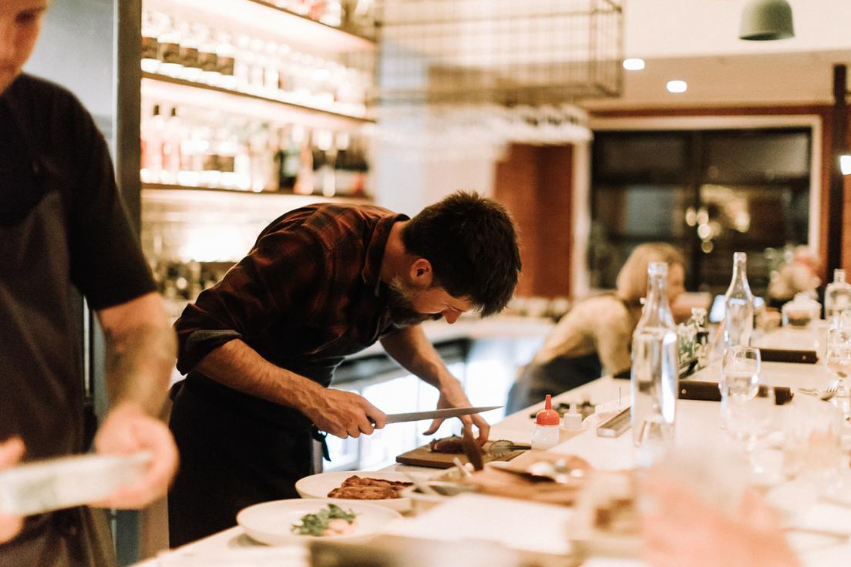 While renowned for its gin, which is distilled on premise, Reed & Co is also a great place for a meal.
Owned and operated by chefs Hamish Nugent and Rachel Reed – formerly of Tani Eat & Drink – Reed and Co's food menu is centred on a solid fuel grill and oven, along with the botanicals used in their signature Remedy Gin.
Select from cured Kingfish, trout, air-dried beef, smoked duck breast, quail and succulent lamb rib, to name just a few of their delectable dishes. There's plenty of fresh vegetable dishes as well, and they're all tailored to be paired with various gins and cocktails.
Local and sustainable produce forms the basis of their dishes.
You can read more about Reed & Co in a separate story here.
100 Gavan Street, Bright. Ph. 03 5755 1525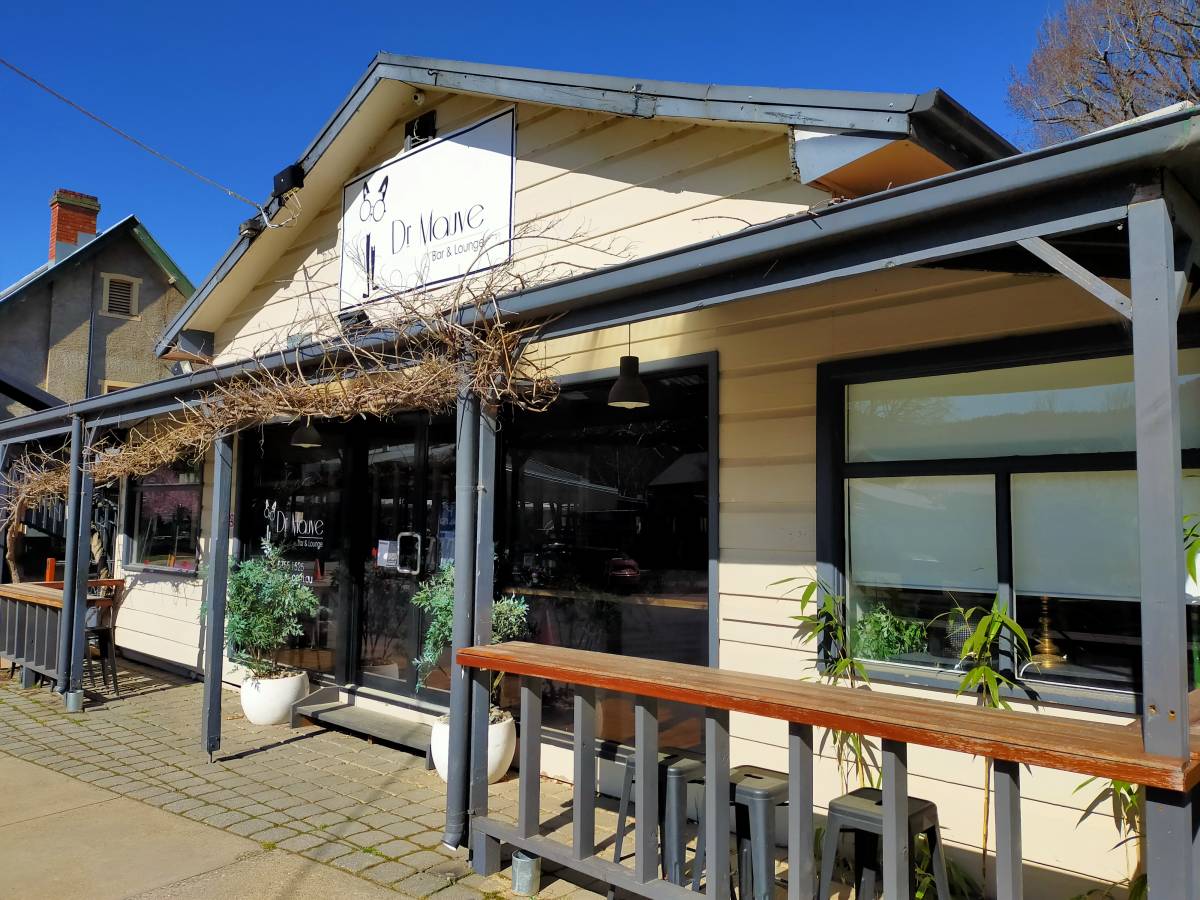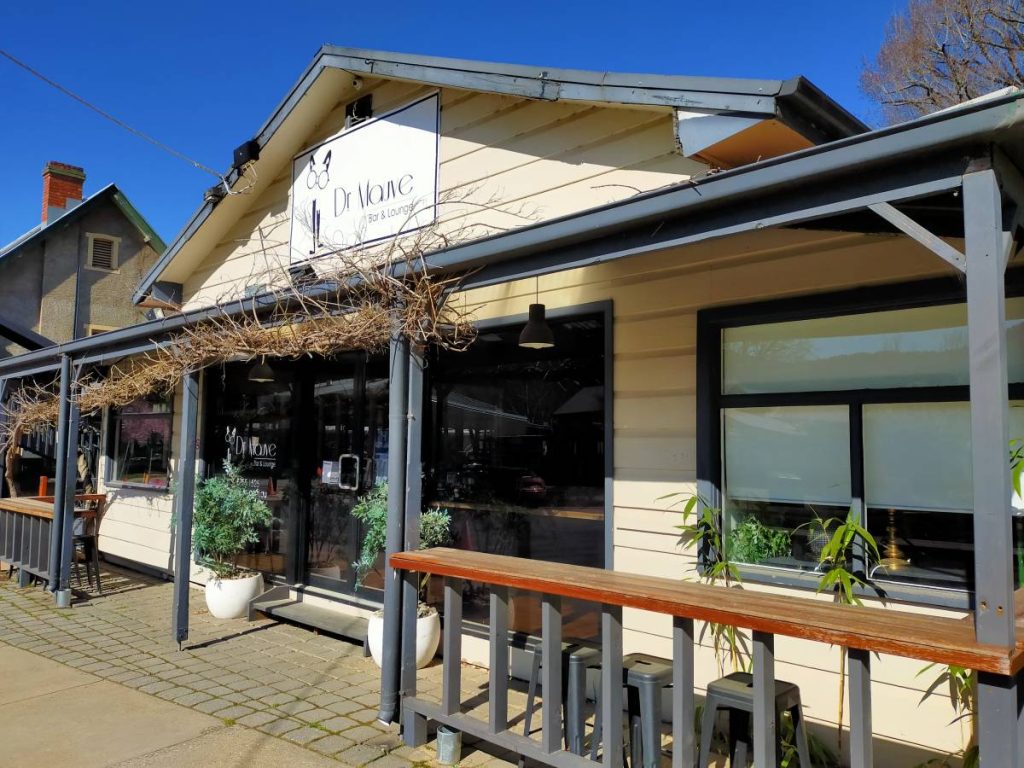 This bar and restaurant has hit the right notes since opening, not only for its enticing share plates and rotating drinks menu featuring cocktails, wine and craft beers. Its late opening hours make it the ideal place to continue your evening til late, and with an open fireplace it's particularly inviting on a bracing winter's night.
The menu is an Asian-inspired fusion of mouth-watering deliciousness. Think steamed dumplings, Vietnamese spring rolls, pulled beef Bao buns, Tom Yum soup, Ramen and curries. If you're not into sharing – and why would you, with this delicious food in front of you! – you can have your own meal as well.
Cocktails (and Mocktails – ask them to create something for you!) include Ginger Berry Smash, Mandarin Sting and Expresso Martini – plus lots, lots more.
98 Gavan Street, Bright. Ph. 03 5755 2266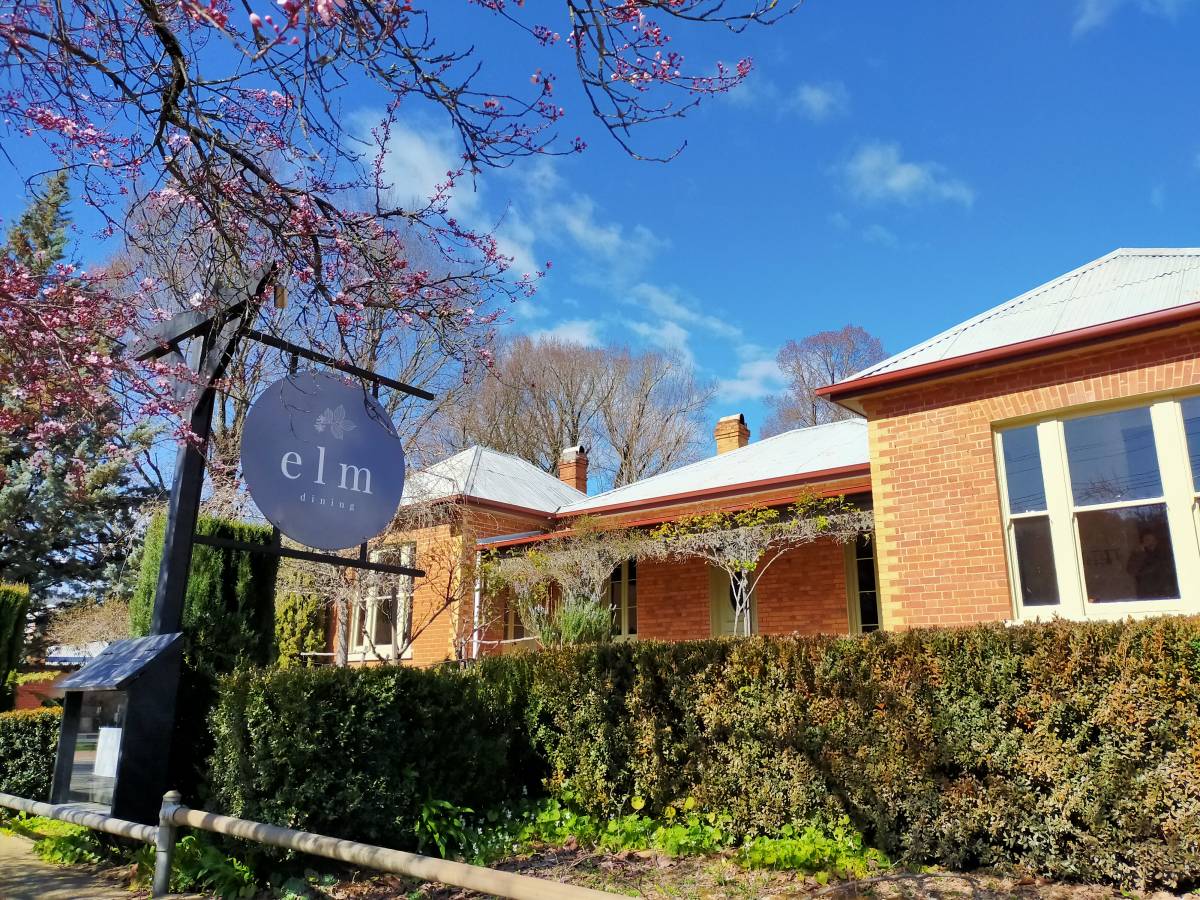 For a fine dining experience in Bright you'll want to head to Elm Restaurant, located in a historic 1862 Victorian building that was once used as a doctor's surgery.
Run by chefs David and Natalie Featherstone, formerly of 'Yum Yum' restaurant on NSW's Central Coast, this recently renovated dining establishment offers a contemporary Australian menu served in a room rich in granduer and ambience.
Choose from their a la carte or six-course shared degustation menus, and add a matched wine from their extensive list.
Sunday breakfast is now also being served!
Directly adjacent to Elm is The Yard Bar and Grill, a Mexican-themed casual dining experience set up by the same owners. Think freshly made tacos, Coronas and tequila, all in a relaxed and welcoming courtyard.
9 Barnard Street, Bright. Ph. 03 5750 1097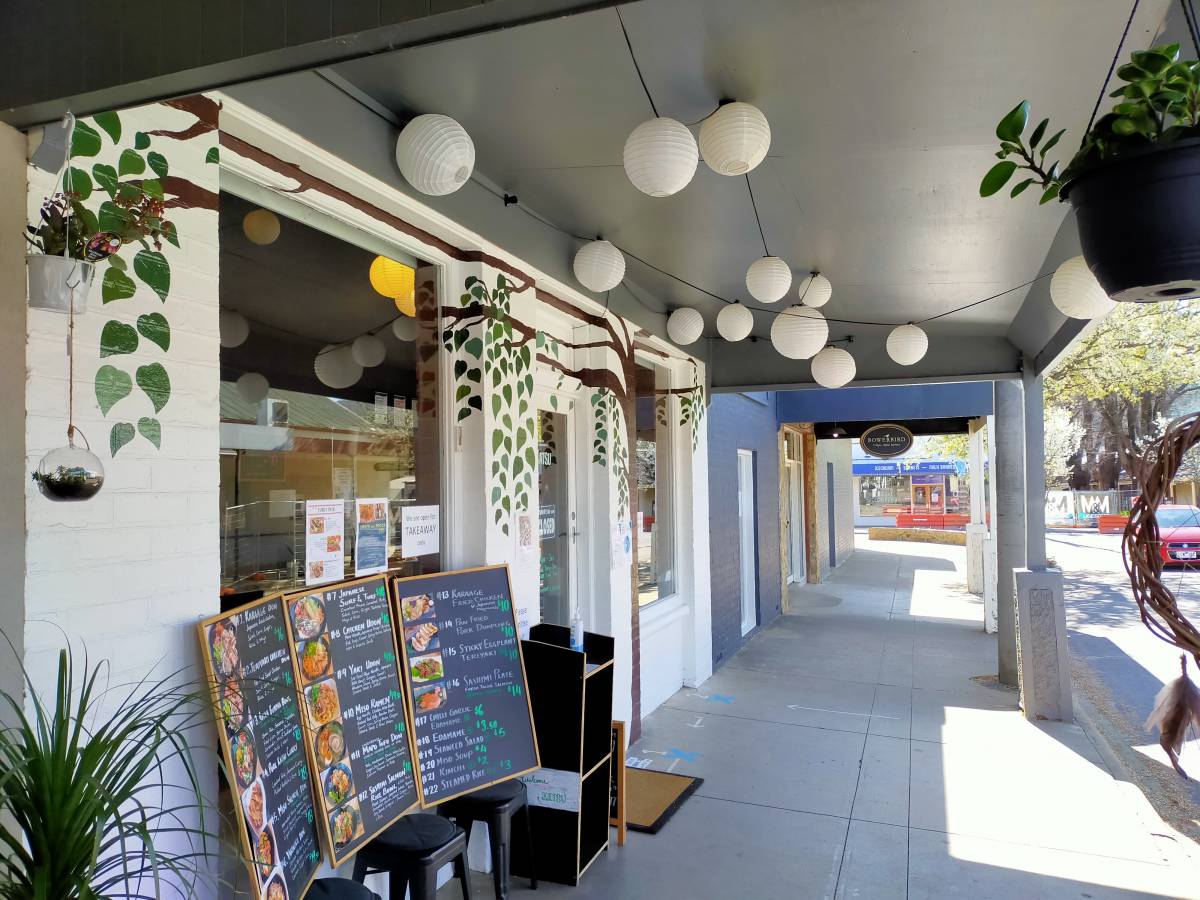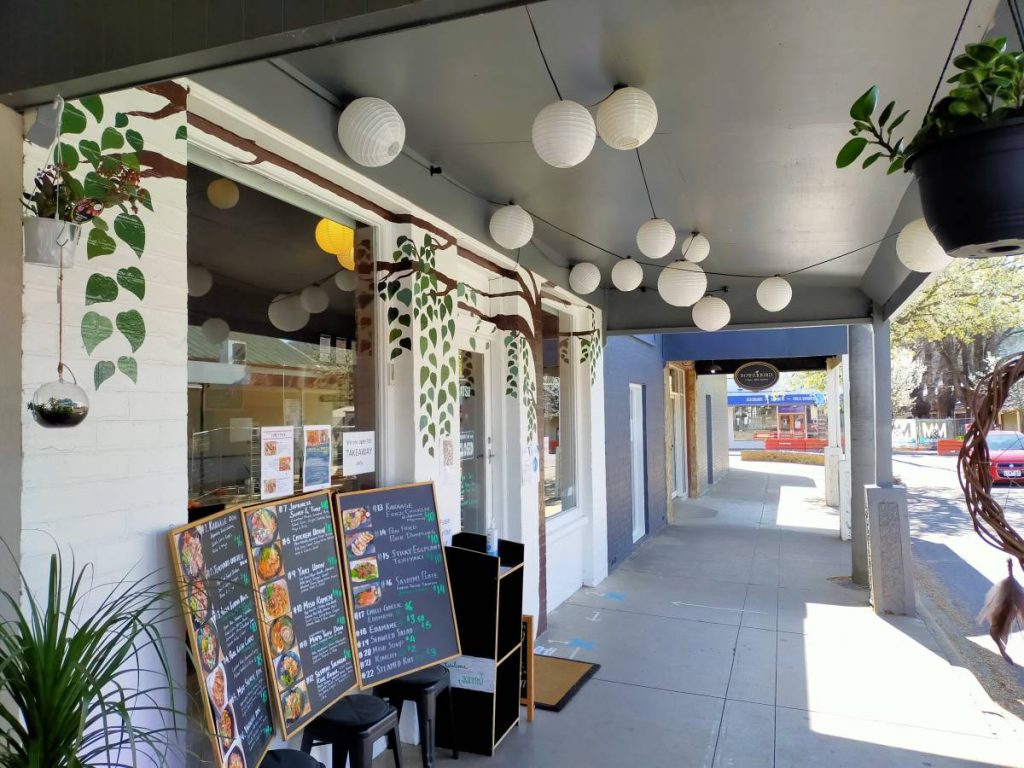 This small cafe restaurant offers authentic Japanese cuisine in the heart of Bright.
Grab a stool outside for an alfresco dining experience, or head inside – the service is efficient, the vibe relaxed, and the food fresh and delicious. Think of a bowl of hot, steaming noodles, pork Gyoza, seaweed salad, Buddha Bowl, Terriyaki chicken and eggplant, Edamame and, of course, sushi, to name a few of the mounth-watering dishes on their menu.
Open for lunch on most days, and dinner on some evenings.
121 Great Alpine Rd, Bright. Ph. 03 5755 1301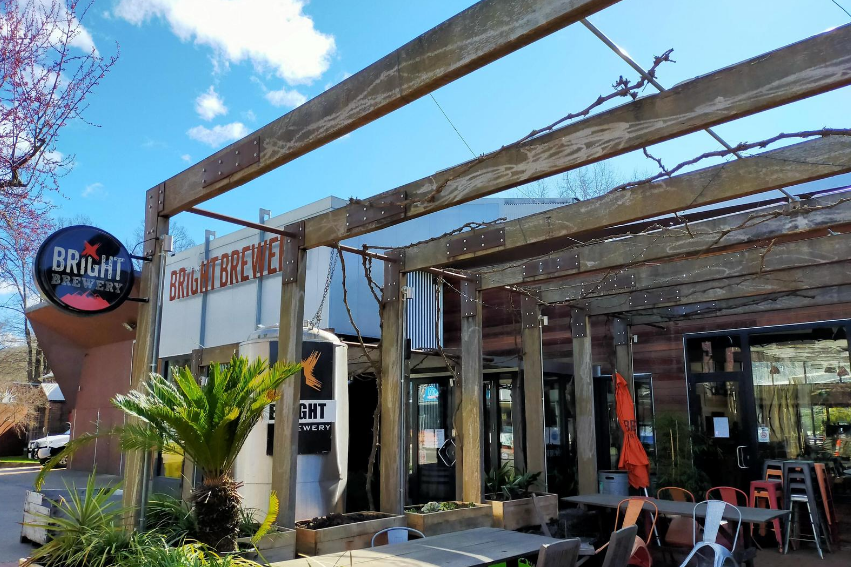 The fresh, locally crafted beer is good here – that's probably no surprise. What's an added bonus is the food is generous, varied and, for pizzas, available throughout the day – in other words, whenever you're hungry!
Add in the central location, and the large outdoor area overlooking the pristine Ovens River, and you have a destination in its own right. Perfect for a family gathering or a social hangout for you and your friends.
There's also a comfy nook complete with an open fire. Take-away beer sales are also available.
127 Gavan Street, Bright. Ph. 03 5755 2300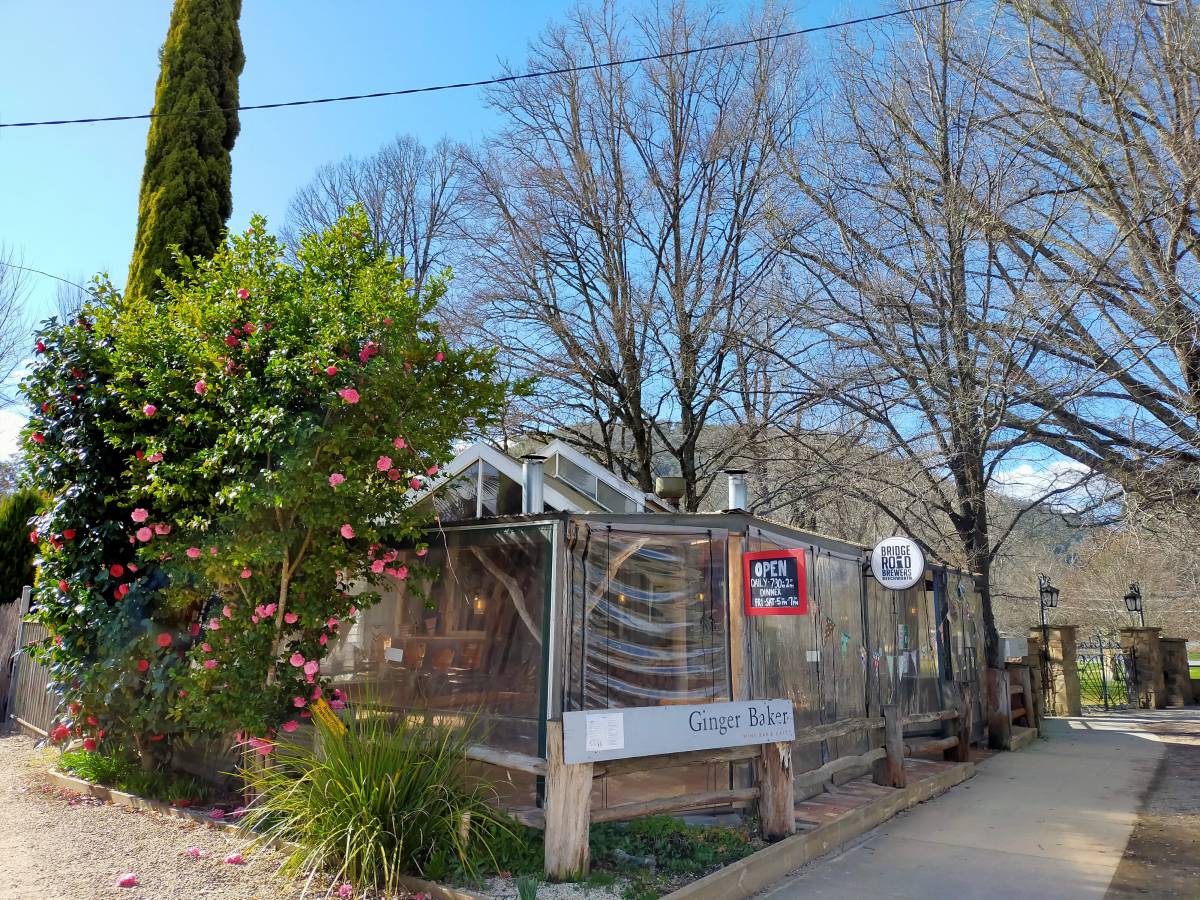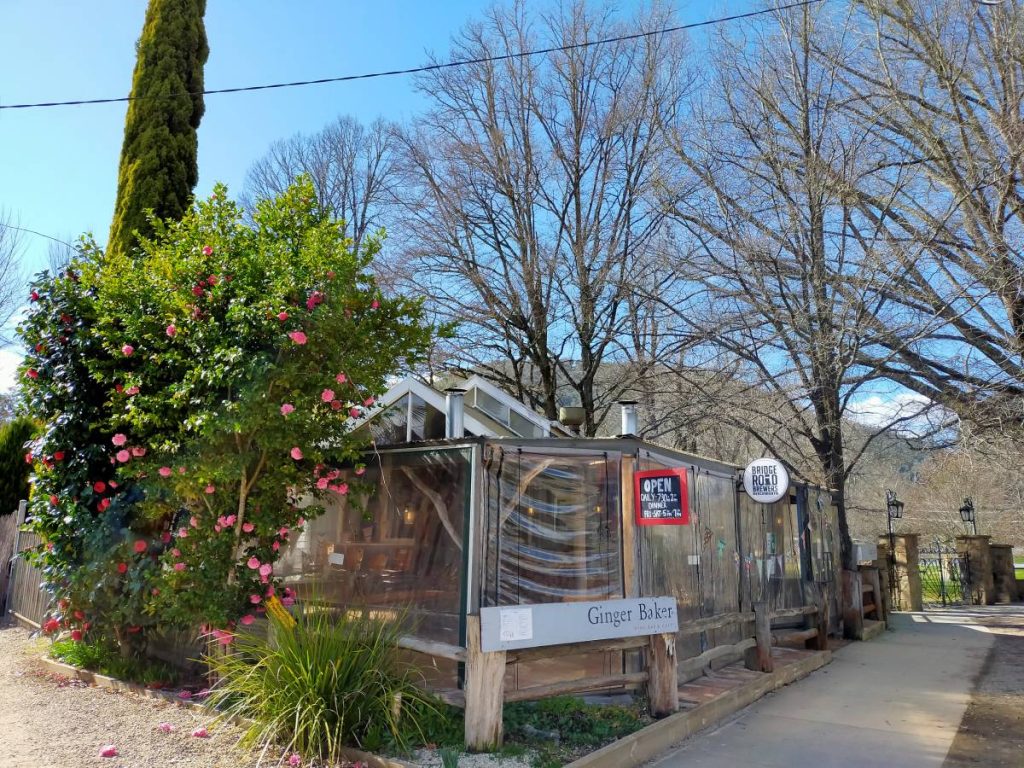 Directly adjacent to Bright Splash Park and the Ovens River, and set underneath a thick canopy of oak and elm trees, Ginger Baker focuses on share plates and tapas for breakfast, lunch and dinner (Friday and Saturday).
There's plenty of space in the outdoor seating area, and it offers a delightfully cool, shady place to relax on a hot, summer's day. Winter is catered for as well, with a wood heater providing ample warmth in an enlarged internal seating area.
The menu reflects produce that's available seasonally in the local Alpine Valley. Try the ricotta hotcakes with crushed pistachio and mixed berries for breakfast, or barrimundi fillet with honey, dill and turmeric yoghurt for lunch or dinner – just to name two of the delicious meals on their menu.
There's also a few meals for children on the breakfast menu.
Ginger Baker can also accommodate group bookings, wedding receptions and events.
14 Barnard St, Bright. Ph. 03 5750 1424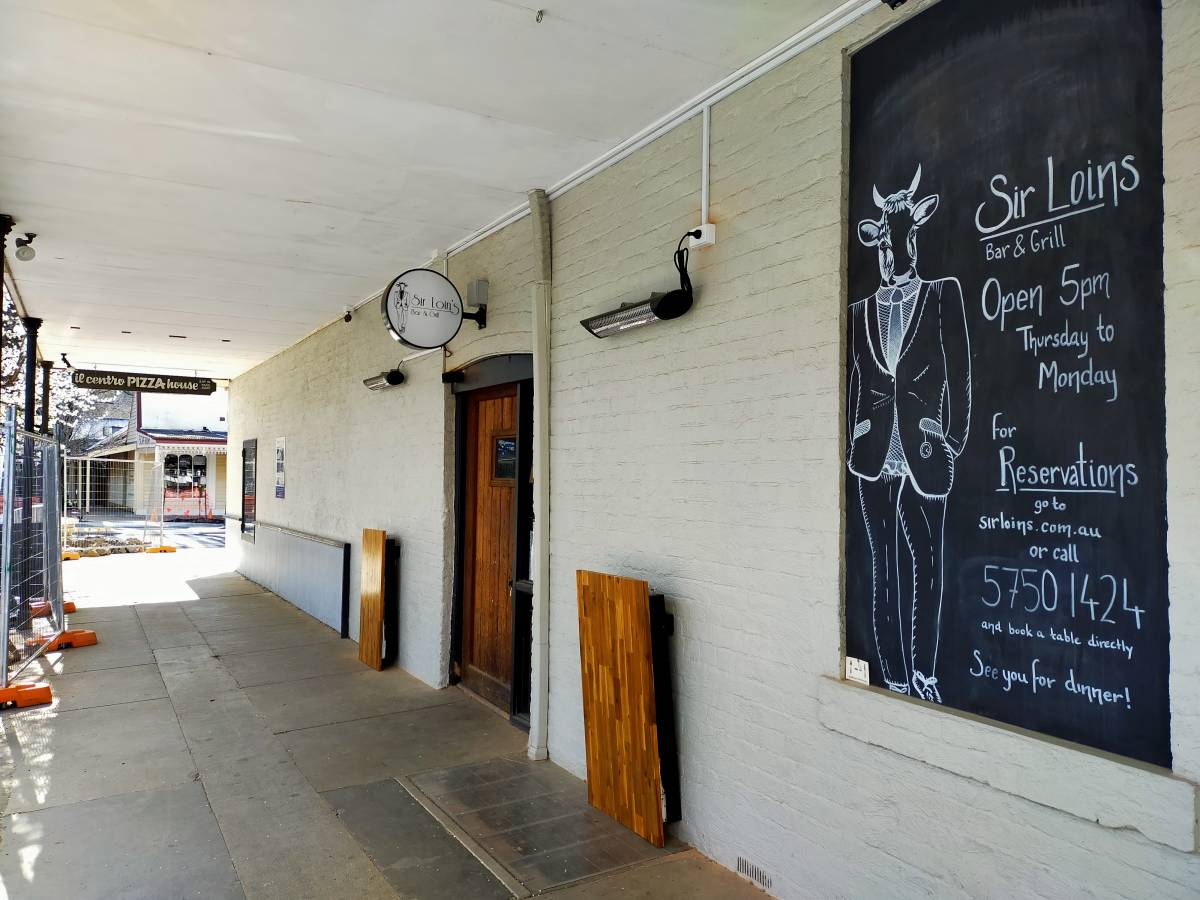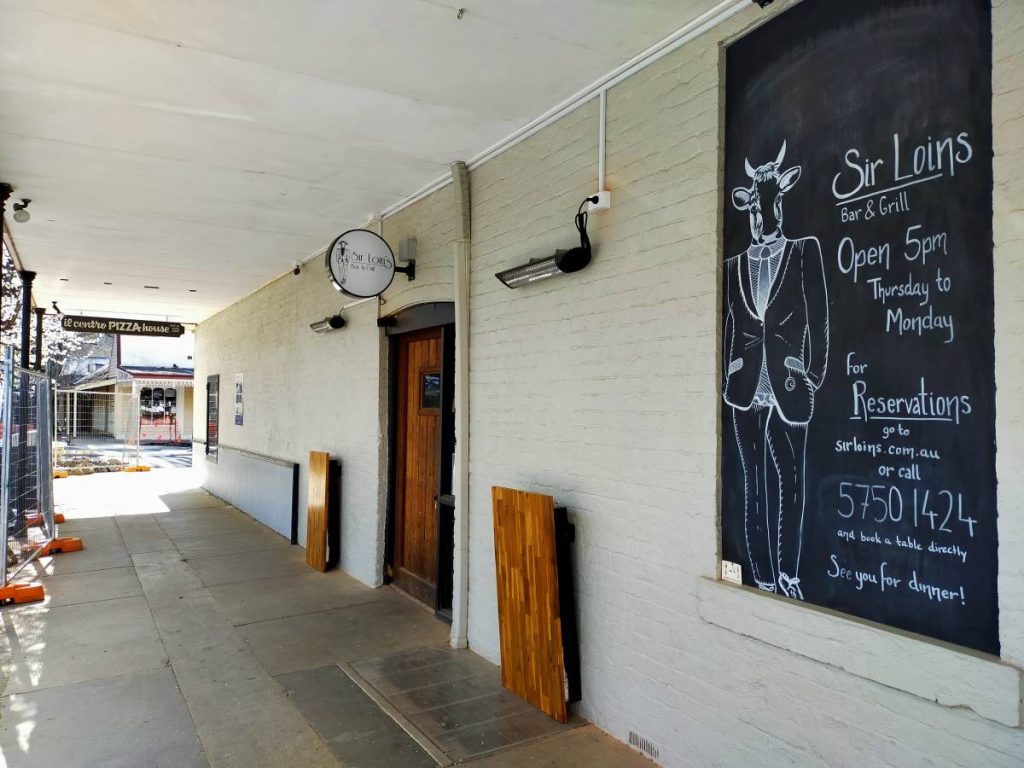 If you like your meat, then Sir Loin's is your restuarant!
Head down the stairs into this bar and grill's intimate setting, enjoy a cocktail, wine or beer before tucking into one of the restaurant's prime cuts of meat. Think a 1.2kg NY Sirloin from Cape Grim, or Yarra Glen Ribeye. All are carefully chosen for their quality and flavour, cooked exactly to your liking.
And if you're not into meat, you're still catered for – particularly if you're looking for a late night treat. From 9pm you can pop by for one of Sir Loin's rich, decadent desserts – such as their mousse-filled, brandy snap cigars.