Reed & Co Distillery Bar and Restaurant
Take a former mechanics workshop, decades old and nearing the end of its working life. Add in two chefs with a passion for new flavours and delicious, local produce. Mix in a taste for gin, and a close relationship with a coffee roaster and bakery business.
Stir thoroughly, and you've got the fresh, vibrant space that now houses Reed & Co Distillery and Sixpence Coffee.
Reed & Co Distillery, which opened in late 2017, is the creation of local chefs Rachel Reed and Hamish Nugent, former owners of popular Bright restaurant Tani Eat & Drink. It was during their time at Tani that they began to experiment with distilling, and how this process could infuse oils with new flavours.
Jump forward a few years and they've now become full time distillers, although food remains an important element at the new Reed & Co bar and restaurant.   
​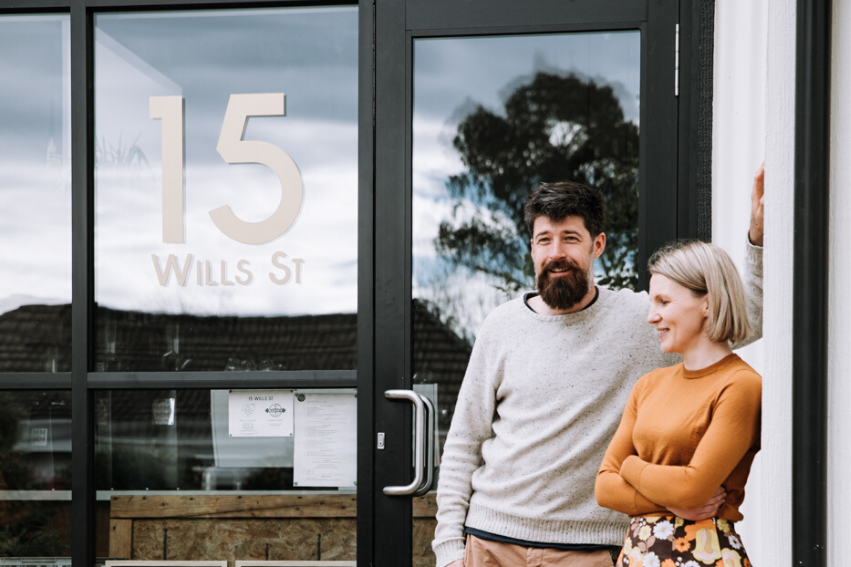 While the new space has a modern feel and look, there are cues to its industrial past in the polished concrete floors, the wood-fueled oven and grill, the copper still (affectionately named Molly) and coffee roasting machinery.
Sharing with Sixpence Coffee maximises the use of the space and gives it a buzz and energy throughout the day. It's become a local gathering place, with meetings between local businesses and professionals fueled by a hit of fresh, vibrant coffee, or for social gatherings over a lunch or dinner complimented by a tipple of gin.
The business' evolution mirrors what's happening at street level. Wills Street is emerging from its perfunctory use as somewhere to park your car when Bright is busy to a destination that houses quality food and wine businesses known for their innovation and relaxed vibe.
Just down from Reed & Co there's Tomahawks, another popular eatery, along with award-winning Billy Button Wines' Cellar Door. Across from Reed & Co there's a new retail space nearing completion, while there's a popup pizzeria that opens from time to time in the carpark next door.
Even the local hardware store, Crispy's, located across the street, has undergone a makeover with a fresh, vibrant coat of yellow paint.
This evolutionary spirit is also clear to see in Reed & Co's constantly changing drinks menu, which includes a range of Limited Release drinks along with short-run collaborations under the 'Spirit Lab' label.
One such collaboration is with nearby Billy Button Wines and sees a gin and juice creation utilising locally sourced Gewurztraminer grapes as one of its core ingredients.
"It's like a fresh fortified but using gin," Rachel says of what is now a seasonal product. "We wild fermented the grape juice, and then freeze racked it and fortified it with gin."
There have also been collaborations with Sixpence Coffee, Bridge Road Brewers in Beechworth, and Porepunkah-based Mayford Wines.
Cold distillation is on the agenda as well, which will deliver a cleaner profile and sharper flavour in their gin. These flavours are truer to their origin, Rachel says, particularly in relation to citrus. 
​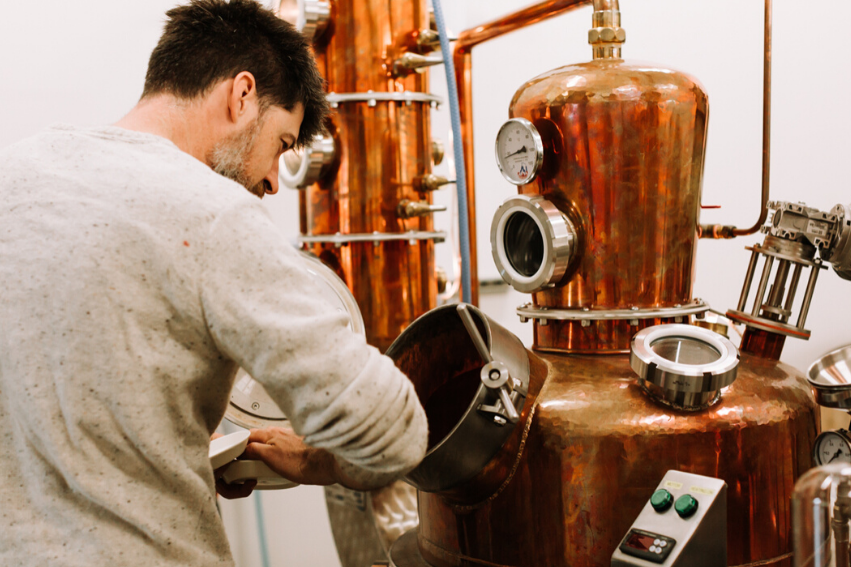 Remedy Gin – named after its one time use as a panacea for depression – is their flagship brand, which they describe as an "unashamedly Australian dry gin that is juniper forward, with the use of wild and native botanicals".
And when they say native, they mean it – for Reed & Co, obtaining fresh, local ingredients can mean heading into the bush to get what they want.
"Gin is all about botanicals and creating flavour, and we've always used local produce as much as we can," Rachel says. "We distill our landscape basically."
"We use pine needles, and we get our hands on mountain pepper leaf. We do get berries but they're very hard to pick and it's a very limited season so we do have to use Tasmanian berries as well. We've got all sorts of different eucalytpus around here as well, so we're starting to use peppermint gum. We also use citriodora eucalyptus which is throughout the North East."
"Wild blackberry is also popular," she adds. "We had a farmer in Porepunkah pick blackberries for us for the past three years."
There's also yuzu, a Japanese citrus that Rachel describes as somewhere in between a mandarin and lemon. It's being combined with other Japanese-inspired botanicals from the North East – such as green tea, chestnuts, and shiso – in a drink named NE07 which stands for 'North East', with '07' representing the seven botanicals being used from the region.
Tastings are available, and involve various flights depending on your preferences. If required, they'll also show you how to get the most from your tasting experience.
"If you haven't tasted a neat spirit before, we explain that when you smell it you open your mouth, whereas with wine you have it closed, so that you get the aroma and you don't get that alcohol burn," she says.
"You touch a little on your lip to introduce it, and then you have a little sip and this tends to open your palete. By the second sip your palete has really opened up."
The focus on gin doesn't distract the chefs from what they serve on your plate. The menu features seasonal ingredients from other small Australian producers in Victoria and Tasmania, and is crafted to suit the solid fuel oven and grill, and the botanicals from Remedy Gin. ​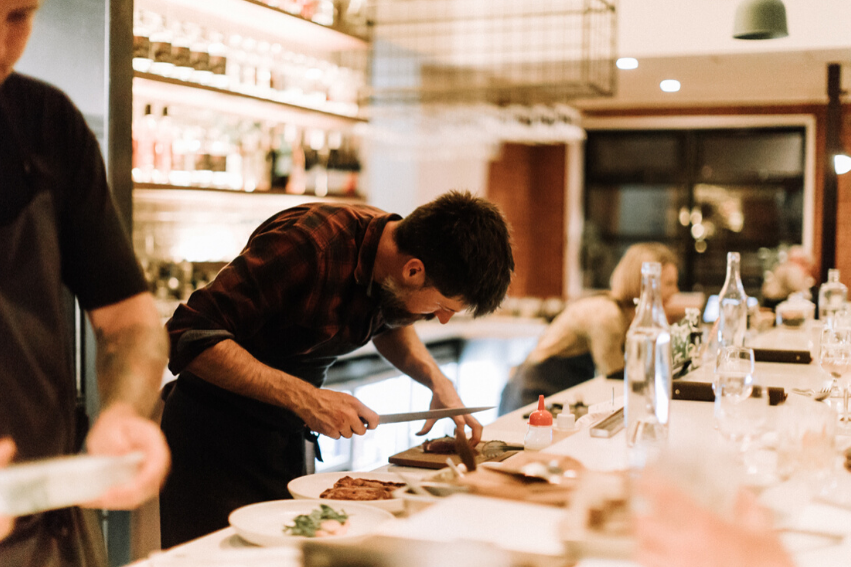 The bar is another unique aspect of the set up.
While sitting at a bar isn't a natural habit for many Australians, Rachel emphasises the benefits of pulling up a high chair and sitting opposite the action. "It's probably more comfortable than sitting at a table, and you'll get to see the chef in action over the red gum-fueled oven and grill and the bartender mixing drinks."
"Guests can interact, but they don't have to interact – it's up to them."
"We wanted that neighbourhood bar feel so that everyone feels welcome."
When Rachel and Hamish aren't busy with Reed & Co, you'll probably find them hiking, mountain biking or snowboarding. And where do they recommend visitors head to? "Mount Buffalo is special, mainly due to the wide variety of walks and views that are available. It caters to all levels of walker."
Reed & Co Distillery – 15 Wills Street, Bright. Ph. 03 5750 1304 (bookings recommended)