Abseiling with Bright Adventure Company
A fear of heights may not be the best phobia to have before taking on an abseiling experience.
The desire to beat this fear was what brought me to the stunning granite outcrops and cliff faces that adorn Mount Buffalo, just 45 minutes from Bright.
Another was the knowledge that this abseiling experience was being conducted by Tim Shaw from Bright Adventure Company. I'd met Tim a few times previously, and my impression of him had been a friendly, easy going, experienced and imminently sensible person.
And that's the trait I wanted most in my instructor – sensible – as I peered out from a rock ledge to the distant valley hundreds of metres below.
It's early on a bright, sunny High Country spring day, the sun's warmth already radiating from the granite ledge as Tim greets our group of four novices at 9am. He begins with some simple yet important safety guidelines and his instructions are clear and concise. As we each wriggle into our harness, he's meticulous in checking the gear fits correctly, and he talks us through what we can expect.​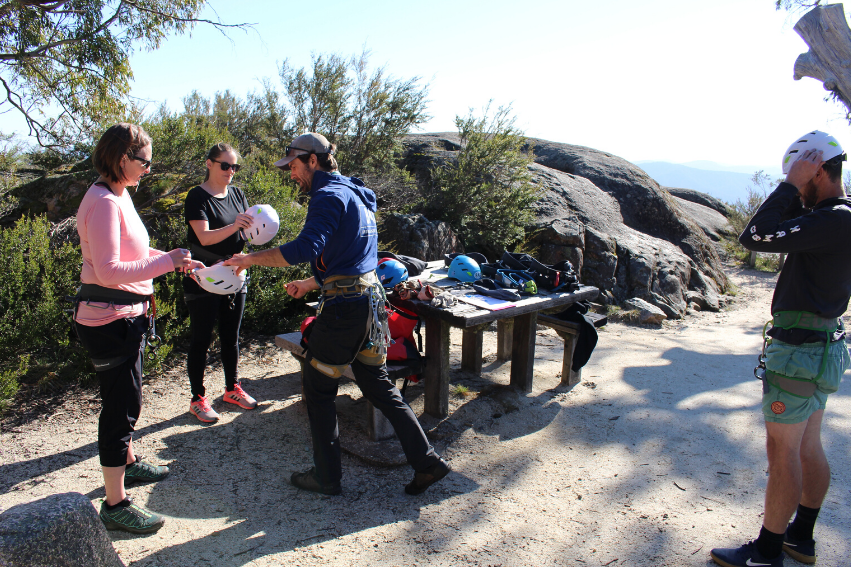 Our first descent will be down a five metre rock ledge, into what's known as Glass Alley – the former dumping point for the Mount Buffalo Chalet, which is located nearby. The safety rope that's attached is incredibly reassuring, giving Tim complete control over our movements.
Leaning your full body weight back into your harness with a 10-metre drop behind you is your first challenge. Edging backwards over a granite rock ledge, into what feels like an abyss, is the next hurdle.
Small, measured steps backward. Deeeeeeep breath. And another.
Left hand in front holding onto the rope, right hand doing the same, although it's this latter hand that controls your pace of descent. Extend your arm fully out and forward to start moving, bring it in and hold it behind your back to stop.
"You're looking good Simon," says Tim, his relaxed demeanor infectious, as I creep further backwards.
Getting horizontal with the rock ledge, heels flat against the tactile, grippy surface, is a surreal experience. Facing up towards Tim's reassuring face is one key advantage of heading rear-end first down the 10 metre descent. Another is not facing the ground below.
Having team members already below me, having completed their initial abseil, is another great help. "Going well, Simon," comes the call from below. "You're heading the right way." Which is reassuring, even though I know down is my only option.
Even at my measured, slow pace, the abseil is done in what seems like a flash. I'm back securely on terra firma, and while I'm thrilled it's done, I can't wait to do it again. And again. And again. This wasn't the reaction I had expected of myself, and it's a credit to Tim that he made an experience that I had feared so thoroughly enjoyable. And safe.
My reaction is mirrored by my abseiling companions, Emma, Brendan and Stacey, all of whom found the experience thrilling and exciting. "Who's up for another go," asks Tim, a pointless question considering Brendan is already back up at the ledge waiting to head down once more.
​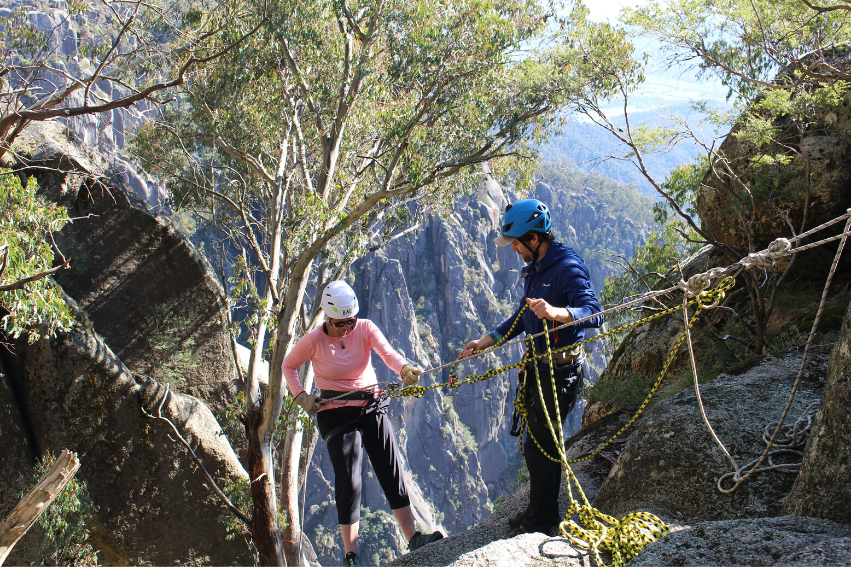 Next is an abseil off a 25-metre ledge, which by the time we do our second descent on the 10 metre ledge isn't as scary as I might have originally imagined. In fact, by the time I finish two more abseils on this second ledge, I'm eagerly looking for something longer and more challenging. Such is the confidence I've built up in the short time we've been under Tim's expert tutelage.
Not surprising perhaps considering Tim's impressive rock climbing credentials, which include two climbs on the staggeringly challenging El Capitan in Califiornia's Yosemite National Park, and time spent at one of Australia's premier climbing destinations – Arapiles – in western Victoria.
Next comes the mother of all abseils – well, it's not really, but to me it is – a 45 metre plunge down a more exposed cliff face, which begins from the aptly named Dragon's Foot rock. The view towards the distant Buckland Valley is just that bit more tangible, more real, as is the drop below. Confidence bolstered by my earlier abseils, I'm not fazed – and nor are Emma and Brendan.  ​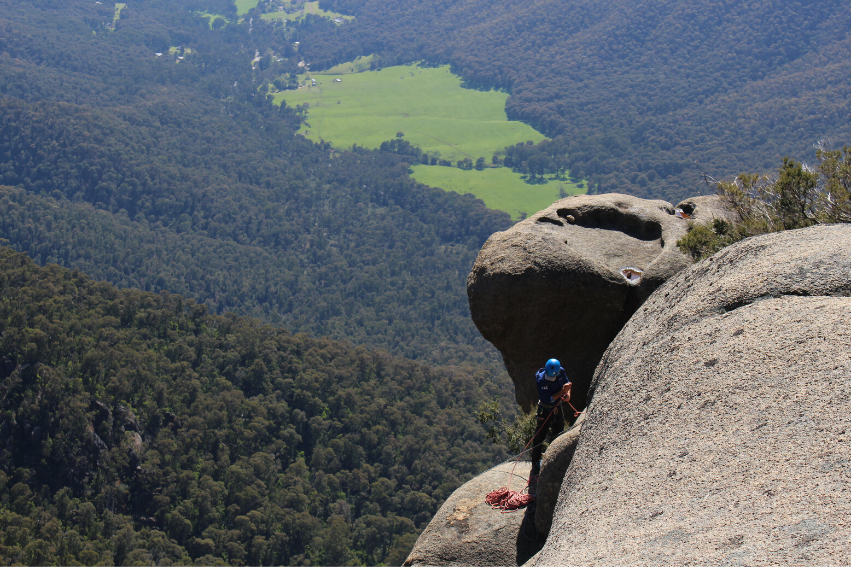 Stacey decides to sit this one out, which is another benefit of doing this activity with Tim. There's no bravado, no guilt trips – if you're not feeling confident, there's no pressure from Tim to push on. He may ask you twice, but that's it. It's your adventure, your experience, your day – not his.
Brendan heads down first, then Emma…and then, finally, me.
Again, thrusting your full body weight back into the harness while 45 metres of exposed cliff face awaits behind you isn't the fear-crippling experience I had imagined. Over I go, Tim reassuring me, shoes glued flat to the rock face as I edge lower. It's at roughly the 10 metre mark the abseil gets interesting, as the rock face abruptly leaves you and a new ledge appears underneath the one you're on – just a metre or two in fact from your (now) dangling legs.
Not having rock under your feet is momentarily unsettling, as is the slow spin you may encounter as you seek to regain your bearings. You're now part of the open void, and the view towards the valley is now even fuller and, WHOA, incredibly real.
There's never the sense of foreboding though, particularly with Tim giving clear instructions on letting out a bit more rope with your right hand to continue your drop. Yes, there's a definite edge to this abseil – we are seeking adventure, after all – yet it gives you a greater appreciation of the skill required to do these bigger drops.
Soon enough I've reached the base, heart pumping yet exhilarated all the same. While I'm glad it's finished, Brendan's enthusiasm for one more descent – and my need to do it again to do better – has us back at the ledge. In the interim Tim heads down, showing us how it's done in more detail, which in turn helps me fine tune my next trip south.
Once at the bottom there's a hike back to the top, which sees you contort your body through a gap between boulders, along with a scramble up a rough but clearly outlined trail.    ​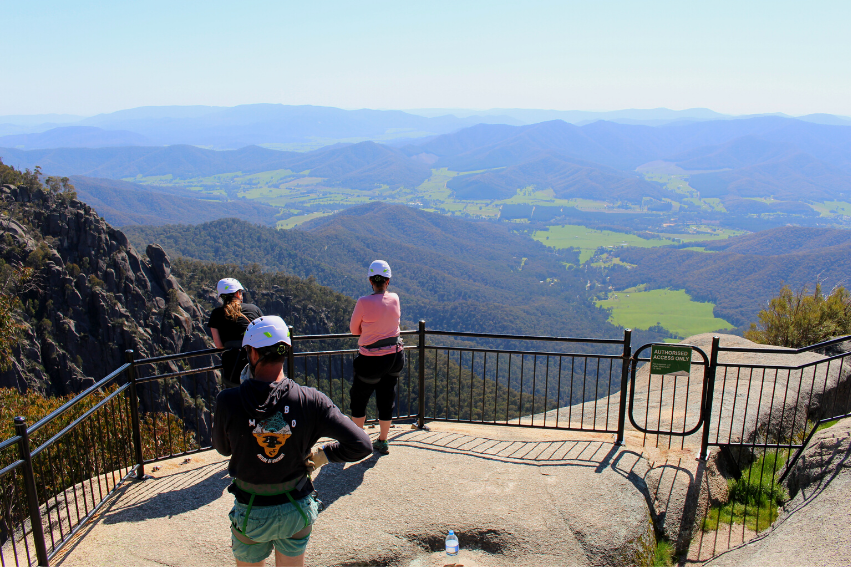 The abseiling tours, which start at $90 for children and $110 for adults, take approximately two hours and are conducted daily as demand requires. They are suitable for novices and experienced abseilers alike – you can even bring your own gear, although note that Bright Aventure Company will need to check it first before allowing you to use it.
You can see why Tim says families love this activity, although he often starts children abseiling down a tree just to ensure they're happy and confident to progress to the 10 metre rock ledge.
You are in an Alpine region, so it's strongly suggested you bring warm clothes, with trousers and/or long shorts recommended, along with sturdy shoes. I did find my hiking boots gave me great grip on the granite rock, although others in the group wore runners and had no issues.
If you're keen to embrace your adventurous spirit – and some of Victoria's most stunning scenery – this is the adventure for you.
For more information or to book contact Bright Adventure Company on 03 5756 2486, or via email.
You can also find a list of their adventures and add them to your playlist or get in easy contact here : Adventure activities in Bright & Surrounds