Whitewater kayaking tour with Bright Adventure Company
It's my turn.
I've purposely waited to go last in our group of seven, trying to learn as much as I can about how best to kayak the torrent of water that gurgles and gnarls before me.
"Aim to my left," yells our guide, Tim, who's strategically positioned in the midst of the approaching rapids. The water quickens beneath me. A thrust of my hips to the right doesn't quite get me orientated correctly, so I quickly stab my paddle into the water, only to head further right. Damn. I've dipped my paddle in the wrong side.
On the precipice of this first section of fast flowing water we'll encounter on our tour today, I finally manage to orientate my craft the right way. Now in the grip of the rapids my kayak bumps freely over submerged rocks, bucking this way and that. Mere seconds pass and I'm almost upon Tim. He continues to issue instructions, and for the most part my aim remains true.
It's only as I'm about to pass Tim that I recall his comment about the small drop into the next section of thankfully placid water. Suddenly that modest fall appears to me in Niagara proportions. My kayak noses over, the drop beckoning, yet by leaning backwards I successfully funnel through the narrow chute and rocket into the river beyond.
Exhilaration follows. As does the desire to ride more of these fast sections of the Ovens River.
Bright is popular for many reasons. Think mountains, hiking, skiing, cycling, wineries, the Brewery…the list of attractions is seemingly endless.
What may not be as commonly known is its suitability for kayaking.
That's where the pristine Ovens River, which flows through the heart of Bright, comes into play.
The river, which carries critically important water for the Murray River system, is ideal for beginners due to its forgiving nature. You're not attempting to ride a roaring wall of water or plunging off steep waterfalls. In saying that, as I've quickly learned there's still plenty of shallow rapids to get your pulse racing as you maneuver your craft through narrow water chutes, steep canyons, and around the many rocks that protrude from the river.
There's safety in numbers though, and in having experts guide your first trip – hence why I joined a group of seven relative novices as part of a kayak tour run by Bright Adventure Company.
We're given full body wetsuits to wear, along with booties – perfect for the coldish water. But it's an outfit which, in my case, is hard to look graceful in, particularly when attempting to carry a paddle and kayak to the river's edge.  ​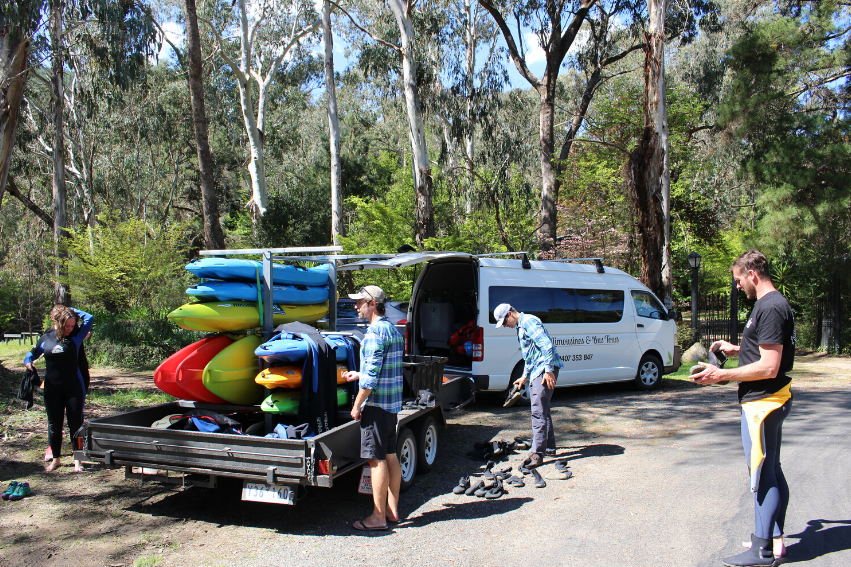 A nervous glance into the water and down the river has me pondering what's in store for us.
I needn't have worried though. Before dipping our feet into the water we were given clear instructions by our experienced guides – Tim and Rowan – on how to steer the kayaks, and what to do when you inevitably fall into the river. Essentially, lay back, elevate your legs to avoid submerged rocks and other detritus, and let the water take you until you reach a calm stretch of the river – which usually isn't too far away.
Entering at a relatively sedate section of the river, we take it steadily for the first hundred or so metres. We review how to hold our paddles properly and get to practice steering our craft, which initially sees most of us bundle into each other's kayaks, ricocheting this way and that. You can see the collision coming. In very slow motion. But you just…can't….seem….to…stop…it…from…happening. THUD. Bump, bump, bump…Mehhh.
Eventually we manage to corral ourselves into a semblance of order in a quiet eddy, although I've somehow got my kayak facing Harrietville rather than Bright. Tim quickly puts me right and, with some additional words of wisdom, we're ready to tackle our first section of fast water.
And that, as you've already read, and where I learn to conquer the rapids.
We're always given clear instructions of how to tackle each stretch of fast water, and as Tim did our guides position themselves ahead of us to ensure we follow the correct route. It also means they're close by should we come off our kayak – which all of us eventually do.
Except Teflon Brendan, a member of our group who manages to navigate the river without even a hint of water on his wet suit.
More rapids follow, each with their own unique challenges and surprises. While it doesn't take long to get the gist of how to kayak, there are times when you think you're sending yourself to the right when in fact you've just sent yourself left, and into the riverbank. Again. Cue dud thud, more giggles, and that 'what was I thinking' thought.
To ensure safety Tim and Rowan often send us through sections one by one, allowing them to focus on each of us in case we need help. It also means we receive tailored guidance, their carefully crafted words a calming influence as we strive to manage the rushing torrent beneath us.
Their instructions are always clear and concise, and without a hint of panic or frustration. Fun is the name of this game.
The quieter stretches of water appear as if spaced on purpose, giving you just enough respite to catch your thoughts, enjoy the stunning views, enjoy a chat with your colleagues, and take in some additional instructions from our guides.
What makes this kayaking experience unique is the different perspective it gives you of Bright. For the most part you wouldn't know you're on the edge of one of Australia's most visited towns. There's plenty of peace to be found in the quiet corners along this stretch of water. You'll also have front row seats to steep rock canyons, some showing the jagged scars of the town's significant gold mining past.
The peace is broken by screams of delight as the current quickens and we enter yet another stretch of turbid white water. The laughter continues as one of us doesn't make a turn when we should have – again – and ends up in the drink. The 'walk of shame' follows as you clumsily seek to get your kayak and paddle back, which can be tricky in the swirling waters. Your dignity may take a bit more time to recover. ​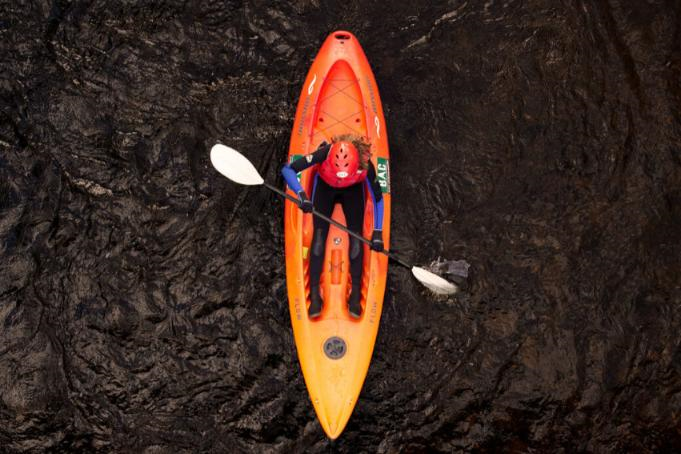 Each of us has single seat kayaks which we sit on top of (ie. you're not strapped to it), although two-person kayaks – which are more stable – are also available. The kayaks can handle the terrain perfectly, letting you bump over and off the myriad rocks, and fellow paddlers, without missing a beat. Think dodgem cars on water.
Our tour went for approximately three hours, although this can vary depending on water levels in the river. When the water's higher – usually in spring – there's the chance for a longer ride.
More than the challenge of independently guiding your kayak down the river, you'll also get a solid work out. Without really trying. You rely on your hips as de-facto rudders – shifting rapidly left and right – and adjusting your leg and foot positions for extra balance. Add in some furious paddling to avoid yet another dodgem-style crash, and you have the perfect all-body workout. All while having a rip-roaring fun time.
These tours operate on demand, with a minimum of two people. You'll leave your car where the tour is due to end and be transported by van to the starting point.
Bright Adventure Company also operates a family friendly kayaking experience, which is perfect for children accompanied by adults.
While many of the rapids are in shallow sections of the river you'll still need to be comfortable in water, although for the most part it's about having a sense of adventure.
So, jump in, the water's beautiful!
To book your whitewater kayaking adventure, contact Bright Adventure Company on 03 5756 2486 or via email.