Choose from a wide variety of venues in Bright
With its stunning Alpine backdrop, delicious food and wine scene and close proximity to Melbourne, Bright is the perfect location for your wedding, corporate event or special family gathering.
To help with your planning, we've uncovered a wide range of venues to hold your special gathering.
Whether it's a formal corporate event, a family gathering celebrating an anniversary or birthday, or a wedding, Bright and the surrounding towns of Wandiligong, Freeburgh, Harrietville, Harrietville and Porepunkah have the venues to meet your needs.
Add in accommodation from Alpine Valley Getaways, along with a wide range of bespoke services we can offer, and your event can be put together with a minimum of fuss.
Villa Gusto Private Estate, Buckland Valley (near Porepunkah)​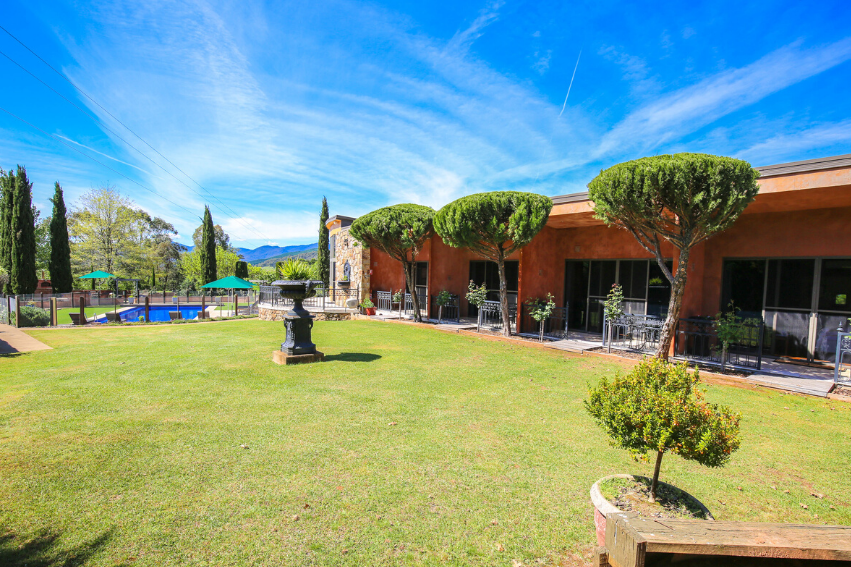 Villa Gusto Private Estate , luxury Bright accommodation, (well 10km out of town up the exquisite Buckland Valley) is now available as the stunning backdrop for your boutique wedding, corporate event, special family gathering or health and wellness retreat.
This Tuscan-themed venue just 15km from Bright, Villa Gusto Private Estate offers the exclusivity and opulence to elevate your special day or event.
Located in the Buckland Valley and with Mount Buffalo as its backdrop, Villa Gusto can cater for up to 80 people. Choose from two seated reception or function areas, in the main dining area or in a marquee adjacent to Villa Gusto's stunning pool area. Or take advantage of the cocktail reception option which gives you even more flexibility in utilising this very special estate.
Food and beverage packages are also available through the nearby award-winning Feathertop Winery.
For more casual and intimate gatherings, Villa Gusto offers you a peaceful and private environment that encourages relaxation, interaction and fun. There's a professionally appointed kitchen for you to enjoy, perfect for preparing a feast from a delicious selection of local produce. Or just kick back in the comfy leather lounges as you absorb the magnificent views of nearby Mount Buffalo.
Accommodation for 14 adults in seven luxuriously appointed rooms is also provided, and Alpine Valley Getaways can also source additional accommodation nearby for larger groups.
For more information or to book, click here or contact Alpine Valley Getaways on 03 5759 2555.
Feathertop Winery
​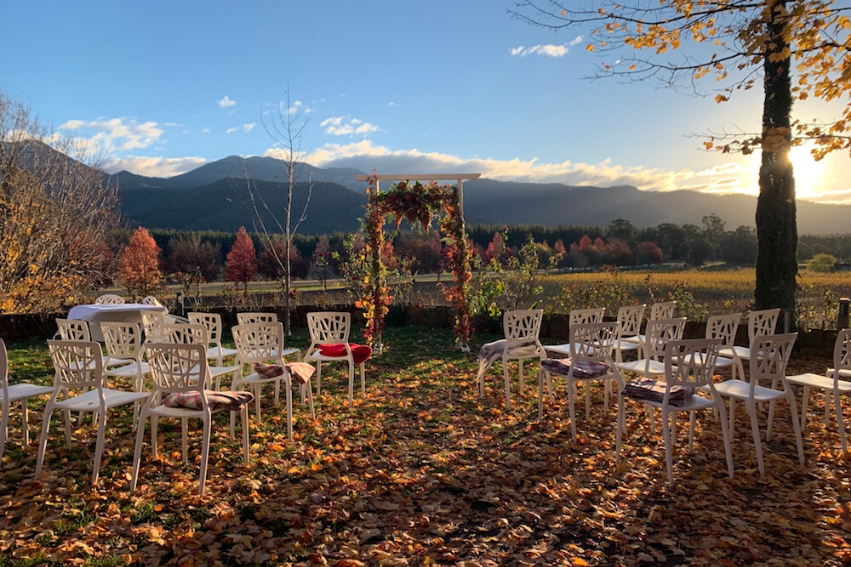 This winery, located just 11km from Bright, offers a stunning vineyard backdrop for your wedding or function.
Catering for weddings and events big or small at this Tuscan-inspired estate, you can utilise the venue's unique array of spaces, including The Barrel Room, The Vaults, The Stone Terrace, The Lawn Terrace and The Members' Terrace.
Add in a package that incorporates delicious food – much of it based on seasonal local produce – and Feathertop's award-winning wines, and you have everything you need for your special event.
The winery also provides a dedicated wedding coordinator and local transport, and there's also a combined event package that incorporates nearby Villa Gusto Private Estate.
For more information, head to www.feathertopwinery.com.au
The Pavilion at Pioneer Park, Bright​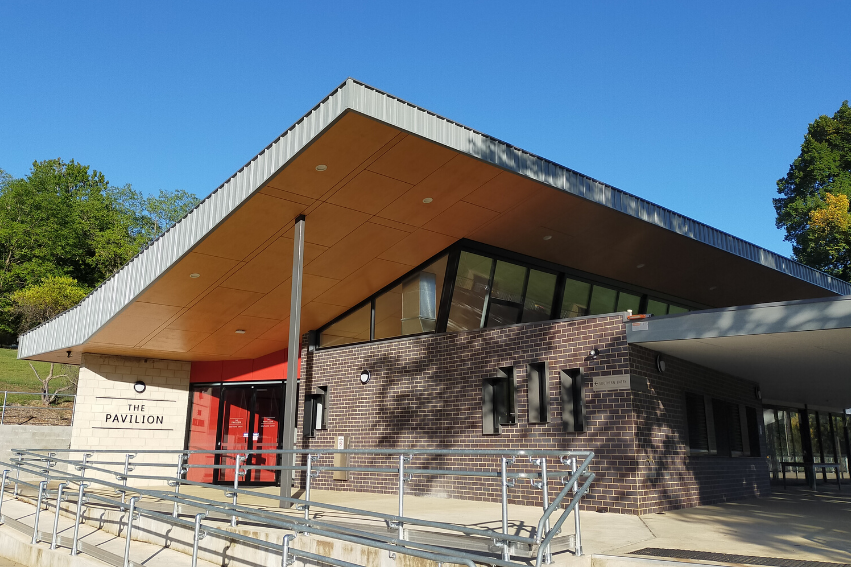 The recently completed Pavilion is a multi-purpose event facility which can accommodate up to 200 guests.
With a full-service kitchen, bar area, audio visual facilities, a large outdoor patio area, this venue is ideal for corporate events, small trade shows and exhibitions, or as a reception venue for your wedding.
There's plenty of parking, and The Pavilion Bright is close to a wide range of accommodation options serviced by Alpine Valley Getaways.
The room can be split into a large function area seating up to 200 guests, and a smaller room which accommodates up to 15 people.
For bookings or queries, contact Alpine Shire Council at bookings@alpineshire.vic.gov.au or (03) 5755 0555.
Wandiligong Public Hall​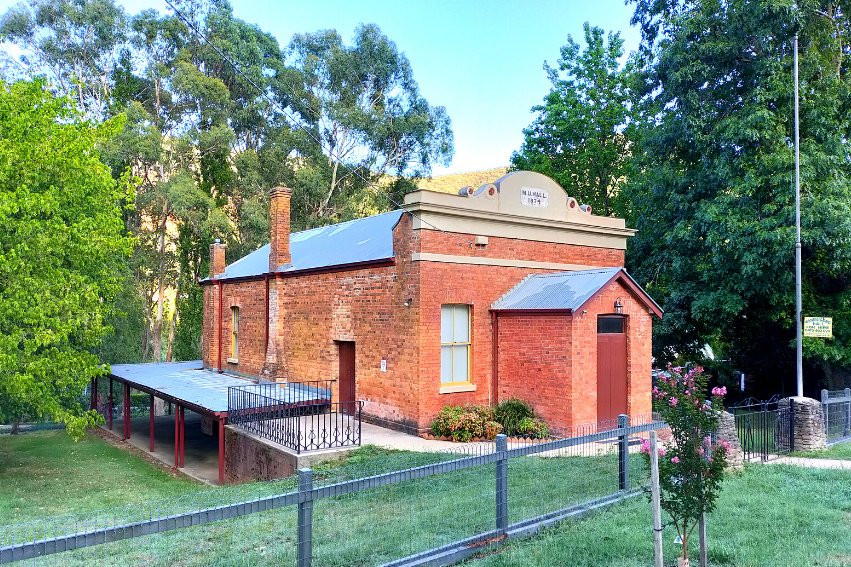 Built in 1874, this historic hall located in the quaint village of Wandiligong provides an authentic setting for your special event.
Rich in history, this hall retains many of the original features from the 19th century, including a Baltic pine ceiling, one inch-thick kauri timber floors, open fireplace and stage. There's also an extensive outdoor verandah, ideal for summer events.
There's a kitchen downstairs, and the Hall can cater for 80 people sitting and up to 120 in a theatre style setting.
Recent refurbishments have been sympathetic to the building's historic persona, and ensure you have all the facilities you'll need for your Wandiligong event.
For more information or to book, click here.
Snowline Hotel Harrietville​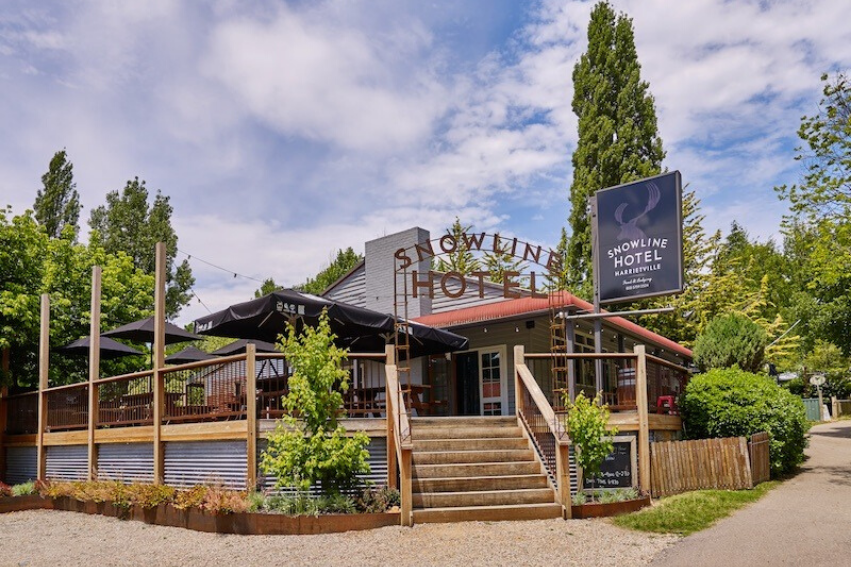 This well-known pub in the picturesque town of Harrietville is an option for small weddings, parties and other functions.
The Snowline Hotel can cater for 100 people indoors and 80 outdoors, offering fixed price meal packages of one, two or three courses, or cocktail style food. There's plenty of local charm in the building, including an open fire place, and a big, open deck to soak up the surrounding mountains and fresh, Alpine air.
They can also rent out equipment for your event, from mobile cool rooms, a bar and beer system, firepit, American-style smoker BBQ and PA system.
If you're looking to hold your event in Harrietville, we have plenty of accommodation options within walking distance of the Snowline Hotel.
For more information or to book, click here.
For more information about event venues in Bright please contact our knowledgeable team on 03 5759 2555 to see what's available. We can also suggest accommodation that's located close to these venues!