Become a better mountain bike rider with Bright MTB
If you're eager to tackle the world-class mountain bike trails of Bright but you're not sure your skills are up to it, a lesson with an experienced local might be the solution. 
Bright, and North East Victoria more broadly, is renowned for its mountain biking trails which cater for a diverse range of skills and interests.  
One day can see you plunging through the pines on the gravity trails of Bright Mystic, the next tackling the technical, rocky descents of Mount Beauty; another day could be spent at the Alpine resort of Falls Creek, or you might decide to enjoy the less aggressive trails at Beechworth, Yackandandah or, in a recent addition to the region's impressive trail scene, the family friendly haven of Dinner Plain. 
But how do you get the most from these amazing locations, particularly if your mountain biking skills are a little rusty or non-existent? 
One option is Bright MTB, a local Bright-based business that has accredited mountain bike courses with an emphasis on beginners and intermediate riders. 
According to company director Andrew Geekie, who's a Level 1, Professional Mountain Bike Instructor Association (PMBIA) qualified instructor, the focus is on giving you confidence and enjoyment. 
"I'm not there to teach people to do crazy, crazy stuff," he says. "I want to encourage people to try mountain biking, or develop their mountain biking, so they enjoy it more." 
And that's for anyone who's interested, from an enthusiastic and motivated young person through to those with no prior mountain biking experience. Perhaps you've enjoyed riding the local Murray to Mountains Rail Trail but wondered what it's like to take on the dramatic downhill descents many of the local parks offer. Or you have a motivated child who's showing an interest in taking up mountain biking but you'd like to make sure they have the requisite skills to ride the local trails. ​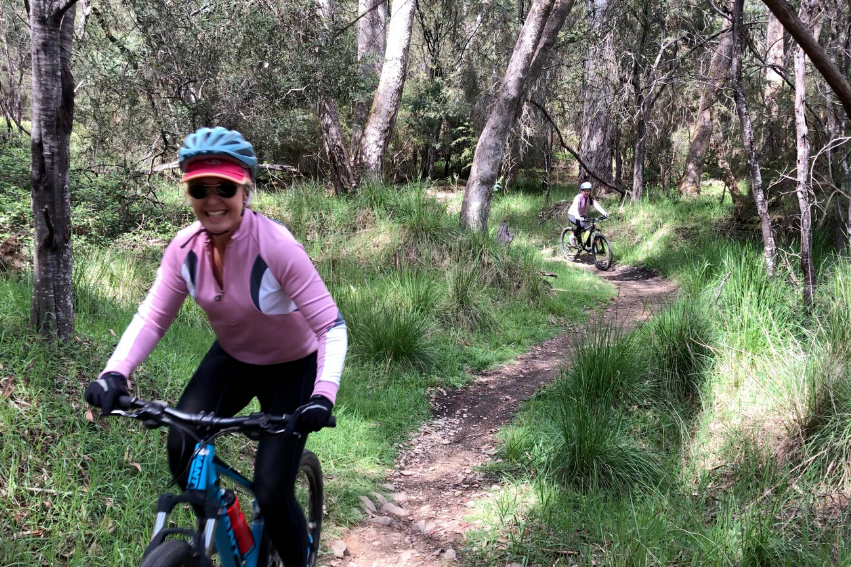 In his one-on-one or small group lessons, Andrew, who was once a nurse in a hospital Intensive Care department, focuses on a gradual approach to learning mountain biking. 
"Mountain biking is a progression sport," he says. "You don't just start out taking on drops. You warm up, you build up. Similarly, when you learn, it's safe progressions. You might start drills on grass, and you slowly build up the obstacles or the drop to get the confidence. That takes time.  
"What people imagine they will do, and what they can do, is often different. But it's great to see people have so much fun. That's my reward for all of this, is watching people get really enthusiastic about mountain biking and trying and learning something different." 
Tailoring your session to your needs is crucial, he adds. 
"There's no cookie cutter approach to the mountain biking lesson. It depends on the individual. And I want to tailor the lesson, so we have fun and you get something out of it." 
"It's not so regimented; it's flexible, it's fun."  
"It's unlocking the confidence to hit those berms in a different way than you would have previously. That's so rewarding." ​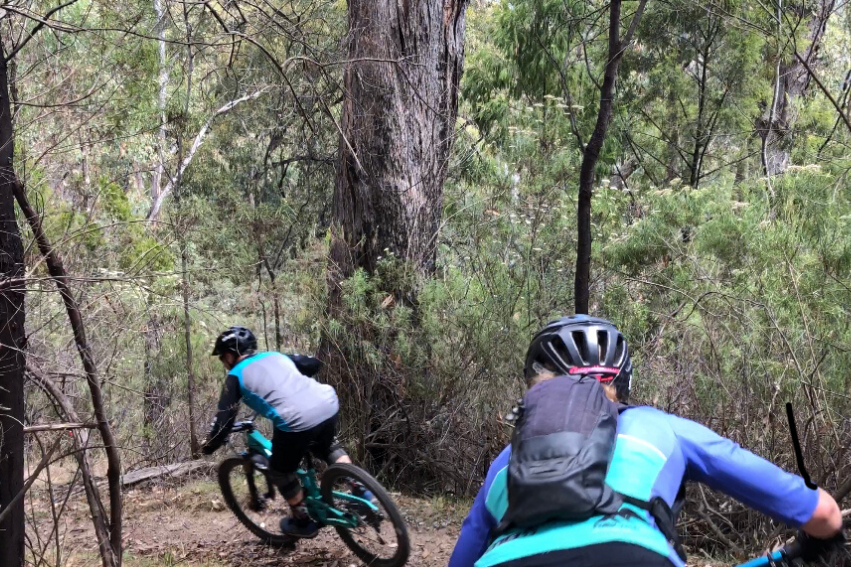 People can bring their own bike or rent one locally from one of the well-equipped cycling stores in Bright. Andrew will check the bike to make sure it's suitable for the lesson, and he'll also look at how it's been set up for you. 
"It's about the cockpit set up and your suspension, if you have it." 
For instance, he says people may sometimes feel like they're going to go over their handlebars, and it turns out their suspension wasn't set up properly. "Even simple things like tyre pressure make a big difference in terms of traction." 
And while some riders say they like their handlebar setup the way it is, he encourages them to let him dial it in for them – at least for the lesson (he can put it back when the lesson is finished). "No one ever wants it back the way it was," he says confidently. "You don't know what you don't know."    
After checking the bike, Andrew will ask you to demonstrate your riding skills, and ask you to chat about yourself and what your goals might be. While this allows him to structure a plan for you, he stresses the session remains fluid and dependent on your needs. 
"I always ask people to pull me up," he says. "If the lesson isn't going the way they want, we'll change it up so they get what they want." 
And local knowledge comes to the fore in planning your session. "Because I'm a local I know a turn or certain track is running well, or that a specific turn or track is bad." 
"My knowledge means you're riding trails that make the most sense to you. You're not wasting hours riding trails that aren't fun, beyond you, or that you're not going to enjoy." And this knowledge extends beyond Bright Mystic to many of the mountain bike parks throughout the region, should you prefer to have your lesson elsewhere – which he can accommodate.  
And knowledge is power, a point Andrew is confident he can showcase with even the most subtle of changes to your riding setup.  
"I think once people understand the power of body position, and how powerful brakes are, and how much you can control something…you can navigate obstacles you once thought were impossible once you know how to do it." ​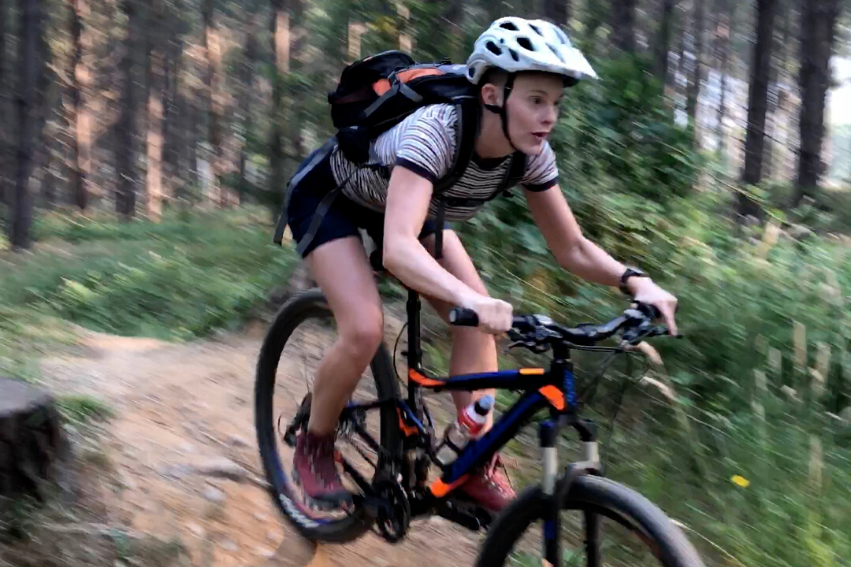 Andrew also believes mountain biking delivers the uninitiated a mesmerizing and all-encompassing experience.  
"I don't think people realise how engaging the sport is," he enthuses. "When you ride on pavement, it's controlled, the traction is usually the same…but then you start to enter the world of off camber, drops, things you can't see over the top of. You're navigating through pine forests, native bush…and it takes you to very different places.  
"There's different sounds, and you don't have the distraction of cars. It's so much more immersive and engaging, and you start to think in three dimensions, and are using different muscles. It' so much fun." 
For those with solid mountain biking skills Andrew also offers guiding trips, helping you find the trails and trail lines that will work best for you.
As an added bonus, at the end of your lesson Andrew provides you with a video of your riding from the day, along with a written summary and some pointers to work on afterwards. 
Ultimately, Andrew sells confidence; it's getting your wheels firmly on the dirt, finding your happy place on the mountain, and having a fantastic and exhilarating time – all in a safe and controlled manner. 
"You want traction," he says with a beaming smile. "Traction's action, and action is fun." 
Alpine Valley Getaways guests receive access to an EXCLUSIVE OFFER from Bright MTB. 
Contact Andrew directly at Bright MTB to book your lesson or guided ride, or head to his Facebook and Instagram pages for lots of videos of happy students riding the local trails. And don't forget to mention you're a guest staying with Alpine Valley Getaways! 
To rent a mountain bike and receive a discount at the same time, head to either Cyclepath Bright or All Terrain Cycles (ATC) Bright and mention Alpine Valley Getaways.  
And for bicycle-friendly accommodation in Bright and surrounds, visit the Alpine Valley Getaways website!