Photo courtesy of Jessie Brewster Photography. 
Was it a dream? Was Katy Perry really here in Bright? She certainly was, and in what was an historic concert event the American superstar performed in honour of the region's emergency services personnel who battled recent bushfires.

The free concert, which was held on March 11 at the same venue used at the Brighter Days Festival, attracted 6,000 very happy and excited people – many of whom were star-struck children (and their star-struck parents).
The performance, which went for more than an hour and featured a cavalcade of her worldwide hits, was a welcome boost for a region hit hard by the January bushfires.
The free tickets were given to excited locals and people from the region's other bushfire-impacted towns, with some people bussed in from as far afield as Corryong.
A highlight of the evening was the emergency services personnel who were brought up on stage to be thanked personally by Katy; and to dance with the pregnant superstar during the rendition of her popular hit song, ROAR.

What's more, Katy and her talented crew used an Alpine Valley Getaways' property – the luxe Villa Gusto Private Estate – to prepare for the concert.
Villa Gusto, which is located close to Bright in the picturesque Buckland Valley, overlooks Mount Buffalo National Park and is perfect for group gatherings and events – when they're legal again of course!
While Katy's entourage were there Kurt Adam, owner and head chef at local food institution Tomahawks, catered to their specific needs with a delicious array of fine foods.
Personalised catering is a feature of what can be offered when booking Villa Gusto.
"We provided Katy and her crew with a selection of Tomahawks' favourites, which included Salt & Szechuan eggplant, yuzu Kosho mayo, tamarind caramel, and Dukkah lamb ribs, baba ghanoush, harissa," Adam said.
"Amongst her group we catered for vegans, vegetarians and various other specific dietary needs, which we're adept at handling, and the professional kitchen at Villa Gusto could accommodate."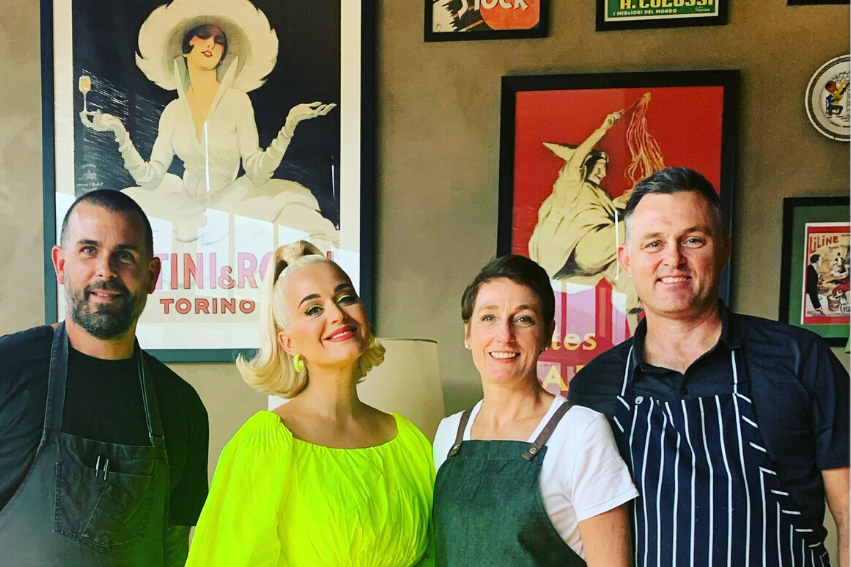 "We needed to be agile and flexible, something my team is used to from Tomahawks," he continued. "Her entourage was essentially working while they were at Villa Gusto, so we were preparing food on an ongoing basis throughout their stay."
"And, at the end of the day, after her concert had ended, we provided them with takeaway meals as they needed to make a move fairly quickly."
"The biggest thrill was seeing Katy really enjoy the food we prepared, and her taking the time to thank us for what we did. She loved it!"
Join in on some of the highlights of this never to be forgotten experience – one of the last high profile concerts to be held in Australia before social distancing laws were enforced and events began to cancel around the world.
A big thanks to the organisers of this amazing experience, and to Katy herself, who was genuine charm and humility personified.